This user is an AOS Canon officer.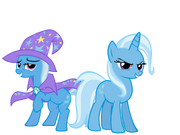 Clones 15 and 16: Simply referred to as just "The Twins," or sometimes jokingly called "31." Something in the cloning process connected them as twins at a mental level from birth; as a side-effect, however, they're significantly weaker than ordinary unicorns when separated from each other. 15 and 16 have abysmal magical potential on their own, but when they combine their spells, they can achieve the same power level as Trixie or any other unicorn. The real threat is that since they know each other so well, they can coordinate with each other in battle almost without having to say anything, leaving their enemy constantly on his or her toes.
Ad blocker interference detected!
Wikia is a free-to-use site that makes money from advertising. We have a modified experience for viewers using ad blockers

Wikia is not accessible if you've made further modifications. Remove the custom ad blocker rule(s) and the page will load as expected.